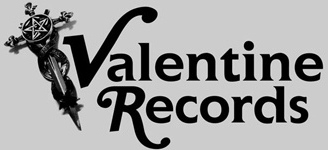 Valentine 059: Joe Ladyboy - Playboy Logic
Four years and a couple of (life changing) sabbaticals later - the third (and allegedly final) LP from label manager/tea-boy/
occasional 10th Doctor impersonator
Joe Ladyboy
is finally here and among us.
Playboy Logic
(for that is it's name) takes it's cues from both it's predecessors (2006's
'Mekano Disco'
and 2009's
'Excursions'
)
and then throws several hundred new ideas into the mix. Thirteen tracks (with various uncredited segues/intros/outros) in 39 minutes:
This, in spite of it's meandering gestation is not a record that waits around to make it's point.
Collaborations this time out include new friends and old faces - not least of all a guest vocal from Damo Suzuki (recorded during
last year's TAGO>MAGO live improv); more instrumentation than your average BBC Prom; fleeting cameos from Iggy Pop, Mitt Romney,
Brian Clough (or possibly not) and Neil Young's first synthesizer
This release will be free-to-air for an initial limited period - enjoy.
Valentine 059 can be downloaded now
here
Valentine 070: No-Way Sweden - As Elvis Presley Sang/Time To Pretend
Part Ten!
- Continuing the
Valentine Records Singles Club!
- 12 singles to be released
throughout 2013 - one per month - each featuring a different artist with an exclusive a-side
backed up by a weird-and-wonderful cover version.
This month it's the turn of Antipodean (but allegedly Blackburn born) David Stubbs (aka
No-Way Sweden
)
David's been busy playing gigs around the world since the release of his last album (the excellent
'Iceland-England'
and has served up this little (not quite) rhyming couplet by way of his new-found interest in the ukelele.
As Elvis Presley Sang
is arguably the prettiest thing we've released as part of the series thus far, while his
cover of MGMT's indie-pop, ahem 'anthem'
Time To Pretend
is one of the most unexpected reworkings...
Both are (as is so often the case with David's work) superb:
Valentine 070 can be downloaded now
here
For more information about No-Way Sweden click
here
Singles Club - The Final chapter...
Part Ten? - Ok, spot the deliberate mistake. As you've probably gathered we appear to be a bit out of sequence here.
Worry not, all is in hand. We can now announce that the last three editions of the Valentine Records 2013 singles club
(specifically 9, 11 and 12) will ALL be released (at the rate of one per week) through the first few weeks of December.
It's a time travel thing. As we said earlier, we've been distracted recently.
It will be worth the wait. Promise
Singles Club - The Story So Far...
Valentine 068 (Ill:
Kremlin/Cock In My Pocket
) can be downloaded
here
Valentine 067 (Babyslave:
Grit in Your Oyster/I've Seen Footage
) can be downloaded
here
Valentine 066 (Lynskey:
Time Machine Go/99​.​9F°
) can be downloaded
here
Valentine 065 (Reigns of Monty Carlo:
The Sound Of Bombs/I Want You Back
) can be downloaded
here
Valentine 064 (Kurt Dirt:
Sleazoid Cannibal Girls In Heat/Body Talk
) can be downloaded
here
Valentine 063 (Ravens:
Stand Up For Yourself/Snakedriver
) can be downloaded
here
Valentine 062 (Red Martian:
Ago/Behind The Mask
) can be downloaded
here
Valentine 061 (Octobuse:
Octobuse/Whip It
) can be downloaded
here
Contact us
Site content © Valentine Records 2013